Bread-y or not, here I crumb
Have your family gobbling up everything on the table as you give them a taste of Mount recipes.
Seasonings Greetings!  Thanksgiving is right around the corner and now is the thyme to prepare. With so many chefs at the Mount, The Campanile took it upon themselves to gather recipes of all kinds for everyone to enjoy. Try as many as you want and share your favorite in the comments.
Mashed Yams in Orange Cups – Lee Quinn
Ingredients
6 pounds large yams (red-skinned sweet potatoes)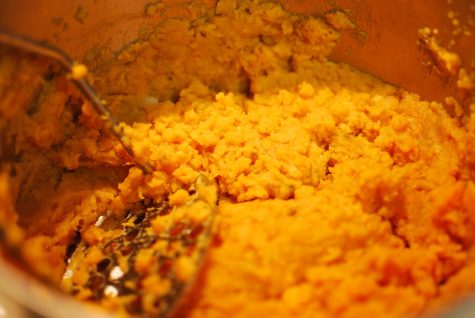 ¾ cup marshmallow creme
9 tablespoons butter, room temperature
6 tablespoons maple syrup
3 large eggs
9 large oranges
Additional marshmallow creme
36 pecan halves
Directions
Pierce each yam all over with fork. Working in 2 batches, cook yams in microwave 15 minutes. Turn yams over; cook until tender, about 12 minutes longer.Cut yams in half; scoop pulp into bowl. Add ¾ cup marshmallow creme, butter and syrup; mash until smooth. Season with salt and pepper. Whisk in eggs. (Can be made 1 day ahead. Cover; chill.) Preheat oven to 350°F. Cut thin slices from top and bottom of each orange to make flat surfaces. Cut oranges in half scoop out pulp; reserve for another use. Place orange cups on 2 baking sheets.Divide yam mixture equally among cups.Top each with dollop of marshmallow creme and 2 pecan halves. Bake until beginning to brown, about 30 minutes.
Pecan Pie Bar Cookies – Ms.  Bender
Crust
Ingredients:
3 cups flour
× cup plus 2 Tbsp sugar
× cup butter, softened
* tsp salt
Filling (below)
Preheat the oven to 350°, Grease a 15x10x1 pan. Beat flour, sugar, butter and salt
until crumbly. Press mixture firmly into a greased pan. Bake until light golden
(about 15-20 minutes.) While the crust is baking, prepare the filling.
Filling
Ingredients:
4 eggs, slightly beaten
1 ½ cups sugar
1 ½ cups Karo syrup
3 Tbs butter, melted
1 ½ tsp vanilla
2 ½ cups chopped pecans
Combine ingredients. Pour over the baked layer. Bake for 25-30 minutes. Cool Cut into squares
Spicy Corn Casserole – Kendall Cross
Ingredients:
1 jalapeño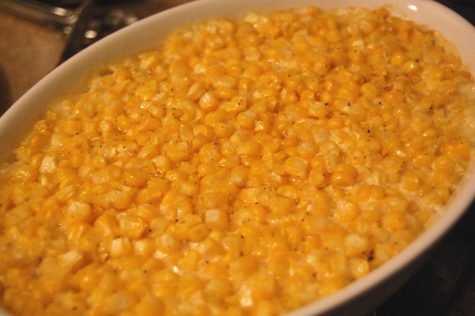 2 cloves garlic 
2 15-oz cans of whole kernel corn
8oz of cream cheese
2 tablespoons of unsalted butter
½-¾ cup grated cheddar cheese
¼ cup bread crumbs
½ cup of parmesan cheese
Pinch of thyme and sage
Directions:
Start by sautéing a jalapeño, chopped (take out the seeds if you don't want the green chile's heat), and 2 cloves garlic, chopped, in a medium saucepan until they're fragrant and just starting to soften. Add two 15-oz. cans whole-kernel corn (not creamed corn), 8 oz. cream cheese, 2 Tbsp. unsalted butter, a large handful of grated cheddar cheese (½–¾ cup), and about ¼ cup finely shredded Parmesan cheese. Stir until it's melty. Season with kosher salt and freshly ground black pepper. At this point, I can't help but taste-test—if I determine it needs more cheese, it gets more cheese. Pour the corn kernel mixture into a buttered 13×9″ casserole dish, then sprinkle the top with ½ cup breadcrumbs (fresh or dried), another ½ cup finely shredded parm, and a handful of chopped fresh herbs (I usually use a mix of thyme and sage, or whatever I have on hand after cooking the turkey). Bake at 375° until the cheese is melted and bubbling and the breadcrumbs are a crispy golden brown—cook time, about 15 minutes. If you are feeling extra fancy, you could toss a handful of chopped green onions or chives on top to garnish, but it doesn't need it.
You can totally prep this ahead of time: Choose a baking dish with a lid (or cover the dish with plastic wrap) and refrigerate the casserole for up to three days, so it's lying in wait for bake time. But do hold the breadcrumb topping until you're ready for the oven.
Stuffed Acorn Squash – Mrs. Goldschmidt
Serves 4
Ingredients:
2 acorn squash
3 Tablespoons olive oil divided
1 tablespoon real maple syrup
1 teaspoon sea salt
1 box couscous
4 cups destemmed kale
1 large shallot
2 gloves garlic minced
* cup dried cranberries
1 teaspoon cumin
½ cup crumbled goat cheese
⅓ cup honey cashews chopped
Preheat oven to 350°. Cut acorn squash in half crosswise and scoop out seeds. Cut a thin slice off of the bottom to allow it to sit Nat. Place on a rimmed cookie sheet. Drizzle the squash with I tablespoon of olive oil. Season with salt.
Bake for 40 minutes or until fork tender.
Prepare couscous according to directions making 2 servings in a large frying pan heat remaining 2 tablespoons of oil. Add chopped kale for 3-4 minutes or until it wilts. Add the shallots cooking them until just browned.
Turn heat to medium/low. Add garlic and cranberries. Sauté for about 1-2 minutes or until softened.
Remove pan from heat. Fold in couscous. Add cumin. Cover and set aside.Fill squash with filling. Top with goat cheeses and cashews.