The nation's first menstrual hub heightens awareness of period poverty
Sydney Okeke '22 creates awareness around period poverty in our area.
Sam Ammons '22 and Natalie Fiorella '22
February 23, 2022
"When I say period poverty what is the first thing you think of?"
This is the question Lynette Medley, CO Founder of The SPOT Period, prompted Mounties with when she came to speak during lunch as part of a Women as Founders  presentation.
She got the typical responses of third world countries and low-income neighborhoods, but many were surprised to hear that she, herself, was once in period poverty. 
Medley informed students that period poverty takes place all over the world, and even in the most unlikely situations. For example, a classmate, coworker, or friend, could be struggling, but you just don't see it.
Sydney Okeke '22  has been a long-standing advocate for women rights. During the summer, she took part in a Youth Ambassadors Program with World Learning. 
The program, that brings together US teens to promote leadership, prepares them to make a difference in their communities.
Inspired by this program, Okeke first reached out to Medley, through email–then direct message on instagram, and that's when they first started connecting.
On January 24, Medley came to talk to students about period poverty and how her organization has helped people's lives.
"I was just excited, I was excited it was this young activist, who was really interested in making an impact in menstrual equity and health in our communities." Medley said.
In a zoom interview, Medley spoke about "The SPOT Period" as well as her connection with Okeke.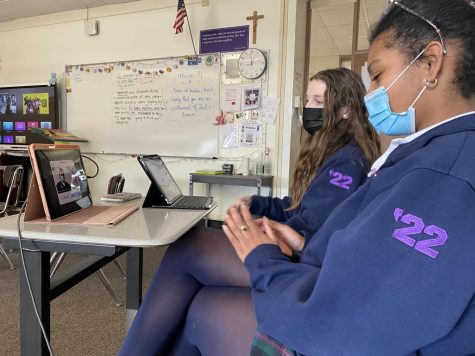 Okeke wanted to be able to help different communities and so did Medley, they had mutual interest.
Wanting to involve the Mount community as well, Okeke organized a menstrual health week. This included bringing in period product donations, and other hygiene essentials.
Okeke also arranged a Cyclebar class to help raise money for "The SPOT Period."
In her lunch presentation, Medley shared interesting facts and statistics about period poverty, but also shared personal stories about women coming to her asking for help—-even the story of how she herself once needed help.
She spoke about creating "The SPOT Period" that became the first menstrual hub in the nation.
"We go into this space around period poverty because there were a lot of inequities in marginalized communities" Medley said.
Volunteers are welcome– The SPOT Period