New furniture, who dis?
Fontbonne furniture spurs discussion and mixed opinions.
Veronica Cherico '23 and Mary Kate Duffy '22
March 11, 2022
Students were surprised when they returned from President's day break to an entirely new Fontbonne and cafeteria.
Over the long weekend, both spaces were renovated with brand new furniture including booths, high-top tables, and egg chairs.
Members of the student body have praised the new furniture for its unique look, saying it gives the rooms a cooler, more modern appearance.
In particular, the "egg chairs" in Fontbonne have garnered compliments for their futuristic style.
At the high-top tables, students delight in their improved ability to hold lunch table conversations.
"…the people across from you are a lot closer to you so you can hear them better, which I feel like with the round table the only person you can really engage with is the person next to you" Maddy Norton '24 said.
In a Campanile survey of 94 students, the booths were the most popular, garnering 46% of the  votes. Coming in second, the egg chairs received 24% of the vote. The traditional Fontbonne couches received 16% and high-top tables received 14%.
Although the booths were a survey favorite, many students who spoke with Campanile reporters expressed concern over the limited number of people the booths can accommodate.
Many friend groups had to squeeze-in rather tight while groups adjusted to the changes. In fact, some groups pushed tables together so as not to exclude anyone.
"…it looks nice, all the furniture in here, but it was a little bit of a surprise to have it sprung on, midway through the year, when everybody knows where they're sitting already" Jane Desmond '22 said.
Some freshmen and upperclassmen alike have been fitting up to 7 people in a booth meant for 4 by getting very close and pulling up a chair.
"…sometimes its harder to have conversations with everyone at the table, but I think they look pretty nice and they add some fun to the cafeteria" Lola Figuroa-Clark '24 said.
"The Campanile" wants to know: which new seating option is your favorite? Why?
Leave a comment and you will be entered to win a prize.
Which seats do you like the most?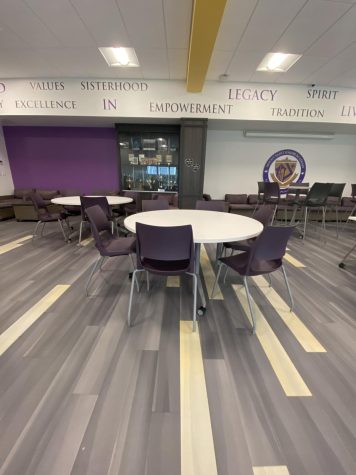 Sorry, there was an error loading this poll.