Beep, beep, what's with all the Jeeps?
You see them all over the parking lot, but why?
Bella Feliciano, Staff Writer
March 15, 2022
Have you ever looked out in the parking lot and seen Jeeps on top of Jeeps? Why are they so popular? Are they really that amazing of a car? 
Either way, many Mounties are head-over-heels for the Jeeps, and it is no coincidence. 
Jeeps have many perks, and come in all shapes and sizes, but they also have some downsides.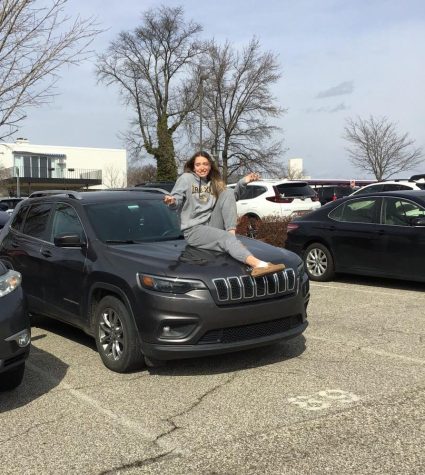 "I think Jeeps are cool and reliable," Grace O'Brien '23, owner of a Jeep Wrangler, said. 
The first Jeep was made during World War II and sent overseas to be used by the Allies. They were reliable and held up in all cases, no matter what it was being used for. 
After WWII, Jeeps were designed for farm use and for farmers who could not afford more expensive machines. 
Jeeps had many other uses after WWII. For example, the term "tailgate party" actually originated in 1964. Many people used the 1964 Jeep Station Wagon to tailgate because it had a fold-down tailgate for picnics and outdoor extravaganzas. 
The M38 Jeep was featured regularly in the television series as M*A*S*H as the first car to completely submerge in water.  
Jeep became known for their innovative approach which carried over into other car brands and sparking future models of their cars.
  There are many pros and cons to owning a Jeep. Upon conversing with many Mountie Jeep owners, their loyalty to their vehicles was not surprising. 
"I saw it in one of the car lots in my local dealership and it was front and center and I was like, 'mother look at this' and she was actually in awe too, so she got it for me," Kat Zampiri '23 said. 
She followed up by saying, "She red and she bootiful." It is safe to say that Kat adores her Jeep, but also did mention it does not feature as many safety enhancements that newer models attain. 
Many jeep owners, including Sarah Burns '22, mentioned how their Jeep feels like the ultimate vehicle for adventuring.  
"I love my Jeep because it saved my life. When I hydroplaned and crashed into the 309 medium, the airbags saved my life," Meredith Taylor '22 said. 
So the question remains: Why are Jeeps so popular? Whether you are looking for a car that is reliable in life-or-death situations, but you also like to feel the wind in your hair, this is the car for you.