Leaders make the club fair a sucesss
Students signed up for clubs with record numbers.
On September 8th, two Thursdays ago, Mount's annual club fair was held in the gym during lunch.
Clubs ranged from the simplest concepts—Take a Break Club, for instance—to the most involved; Mock Trial and Model UN were two examples. Several new clubs were also introduced this year, such as Cheerleading Club and Autism Awareness Club.
Kate Tannenbaum '24, one of the leaders of Autism Awareness Club, said, "It's always been really important to me, to all of us, and we really want to bring that to the Mount."
This spirit of trying new things and making new friends was evident through the experiences of the club leaders.
"There were a lot of great clubs and a lot of good conversation, and a lot of people willing to join something new they had never done before," said Noelle O'Brien '24, a leader of Book Club.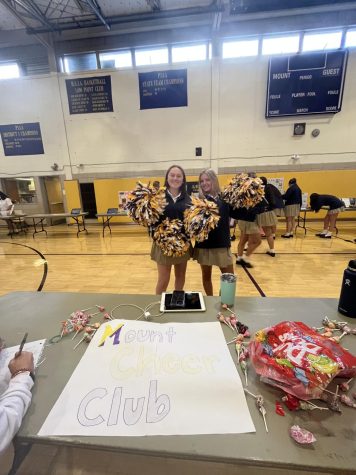 The club fair was also described as excellent by O'Brien, who said that she was glad that there had been so many people there.
Although the club fair has been marked by the tragedy of Queen Elizabeth II's passing. Overall, the fair was a huge success and a continuation of the Mount tradition of sisterhood and community.