Founders' Day 2022: A guide for freshwomen
From the sleepover with friends the night before, to the heartwarming walk to the Motherhouse, this truly is an unforgettable day for all members of our community. 
Founders' Day is a time of sleepovers and sisterhood for Mounties and staff colleagues. 
This special day kicks off all the fun moments we will have in the year and helps you take time to realize where you are in your life and how it immerses you in Mount Magic.
For the returning students at Mount, Founders' day is an event most people really look forward to. For our freshman and new students it is something that could bring a lot of excitement but also curiosity. They may wonder about the meaning of the day or the traditions Mounties have.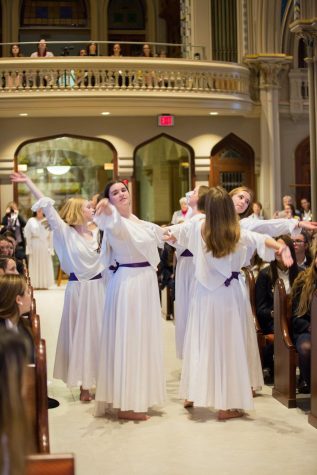 Feel the sisterhood.
 "I expect to really feel the community and the sisterhood of the Mount," new student Rachel Romeo '24 said, talking about what she predicts for her first Founders' Day. 
Have a sleepover with new friends and old.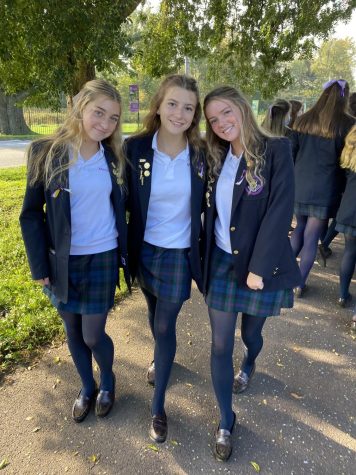 Founders' Day celebration actually starts the night before. Typically, Mounties have a big sleepover with all their friends at someone's house. The girls catch up, have snacks, and watch movies. This is a time to really get close with all of your friends. 
Something to keep in mind: invite someone you would not typically invite or someone who may not have anywhere to go. Choose love.
 "My friends and I sat around a fire and we spent some time together, we watched a scary movie and we were laughing so hard," Kelsey McGovern '24 said, talking about her last year's Founder's Day sleepover.
Buy your purple and gold ribbons now.
Another important aspect of Founders' Day is the hair ribbons. Girls typically put their hair in a half up half down hair-do and then tie in a purple ribbon. It is a super cute way to show some Mount spirit!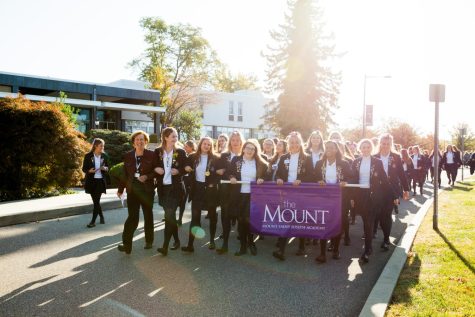 Have a mindful walk.
Enjoy the walk. 
Take in nature.  
Be in the moment.
Appreciate your surroundings.
The walk is a huge aspect of the day, so take your time and enjoy it. The walk is an experience in and of itself. 
Walking to the Motherhouse for mass is many Mounties favorite part of the day. It is so fun to walk with all your classmates and really appreciate your surroundings. The class president, Vice President, and Secretary all lead the way by carrying a huge Mount banner. 
President Annie Shields '23 says, "I'm very excited to be more involved in making the opening video, walking down Wissahickon Avenue with the banner with Claire and Julia, and just taking it all in one last time. I'm definitely excited to help be the leader for the freshman as they go through their first one and really pave the way for them." 
Take pictures with your sisters on the walk.
A slightly newer Mountie tradition is taking pictures with all your friends during the walk to document the day!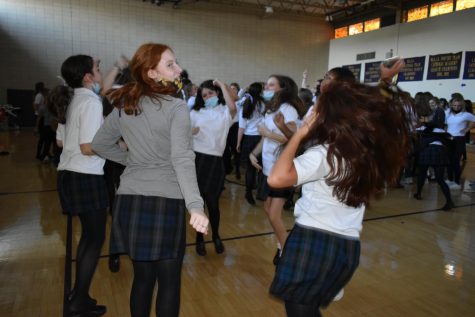 Let loose at the all-girls dance party:
Lastly, after the spiritual walk and mass we come back to school and have a super fun all girls dance party. It is an awesome time to get close with your friends and let free. We listen to some of the best dance hits and show off our dancing skills! 
What is your favorite Founders' Day tradition? Reply in the comments.