It's time to BeReal
Mounties chime in on their BeReal habits, what they think about the app's longevity, and the effect on our generation.
BeReal, a current trending app, encourages its users to take a picture wherever they are at a random point in the day and share it with their friends to promote the idea of sharing your "real self." 
Although it was created in 2020, it did not gain traction until the summer of 2022. The app has since taken the rest of social media by storm. Here at school, the notification will go off during class and that still does not stop people. They have to post.
Many apps similar to this concept have come out before. 
"Do you remember Poparazzi, it didn't last that long and this is basically the same thing," Sarah Mark '24 said.  She brought this up after I asked her if she thinks the app will last. 
Mark is not the only student who questions how long this trend will last.
Causal apps like Poparazzi or VSCO have come and gone, but they do not last long.
At a junior advisory poll, eight out of thirteen students said they expected BeReal to have died out a while ago, yet it still has millions of daily users.  However, the app's original intentions may have been warped.
After asking those same students if they still keep up with BeReal, many answered how Meghan Krumenacker' 24 did. 
"I try to use it correctly, but sometimes I forget and I don't want to post late," Megan Krumenacker '24 said. 
Posting late: the two most dreaded words when it comes to BeReal. The entire point of the app is posting within the two minute limit to keep the photos "real." Posting later, because you know you will be doing something fun, completely contradicts the app, yet everyone does that.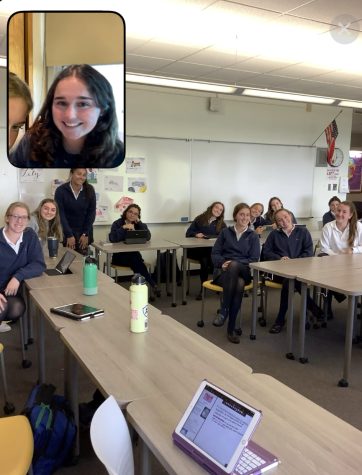 "… If you're posting hours late, you aren't being real, you are being fake," Anna Fedders '24 said. 
In addition to this frustration, being allowed to post late has had damaging effects. It can hurt to see someone post a picture where they look "effortlessly pretty" and try to play it off as if they look like that all the time. Because you are able to post late, it gives you time to put on makeup and a nice outfit. In reality, it is impossible to always look your best, but BeReal promotes this idea. 
According to student responses, with BeReal's late posting and unattainable standards, the app's longevity is fleeting.  Even if it follows the trend and dies out similarly to Paparazzi, a new company will pick up this idea and the cycle will repeat. This idea has a grasp on everyone. 
Oh shoot guys I'll finish this later, BeReal just went off!