Deep dive: What is a music and art scholar?
Have you ever wondered what it's like to be a music or art scholar?
It's common knowledge at the Mount that there are scholarships like the President's, Founders, Fontbonne, and Alumnae.
But have you ever wondered how instrumentalists and solo vocalists are chosen for important liturgies? Or even who designs Mount's t-shirts, liturgy pamphlets, pins, and stickers for special occasions like Founders' Day or Charity Day? 
Along with their fellow arts scholars, these are the responsibilities that Nora Feliciani '26, Ellery Williams '24 and Nadja Eyring '25 accepted when receiving their unique scholarships.
Nora Feliciani is the vocal scholar of the class of 2026.  She received this scholarship by submitting a video audition, then being selected to come to the school for a live audition. Some requirements of this scholarship are being in the school's musical, participating in glee club, taking the honors music history course, and attending vocal lessons outside of school. 
However, singing isn't Feliciani's only hobby: She also plays field hockey for the Mount. These responsibilities as a vocal scholar and member of the field hockey team can be a lot to balance.
Like Feliciani, Ellery Williams '24 also feels overwhelmed at times. Ellery is the art scholar of the class of 2024, and she has many responsibilities such as making posters and bulletin boards, painting the set for the school's musical, designing the freshman and sophomore Charity Day T-shirts, and creating liturgy pamphlets. 
Williams explained the process of managing the pressure and expectations that are put on her as an art scholar. She mentioned feeling that she always has to be perfect, knowing that her work will be on display for the whole school, and that she might hear some opinions on her art as she walks through the halls.
Mrs. Hamilton also faces pressure when going through the process of selecting an art scholar.
"There's no best, there's just so many different kinds of good, and that's always the case," Hamilton said.
Luckily, there was a solution to both Ellery and Mrs. Hamilton's problem. Recently the Mount has created a new group called the National Art Honors Society.
Mrs. Hamilton explained how this helps to recognize the students who are passionate about art, but did not get the scholarship. They can also take some weight off of the art scholars' shoulders by helping with projects.
"It's really fun, they're all good people… They have similar experiences," said Williams when talking about working with other artists.
Nadja Eyring '25 is her class's instrumental scholar and plays the harp.
Unfortunately, it's hard to play the harp with other musicians, so she doesn't get as much of a collaborative experience as Williams does.
However, Eyring still gets her gigs, playing at the class of 2021's graduation, fine arts week, and both the spring and Christmas concert.
You may be wondering, why the harp? Eyring said that she had been curious about the harp, then finally decided that she wanted to play it eight years ago.
"I just stop thinking when I play it, and I just enjoy the sound that it makes," said Eyring, explaining why she's stuck with it.
Similarly, Ms. Danielle Molan, Choir Director, added how Eyring adds a beautiful ambiance to any event she plays the harp at.
However, just like for Feliciani and Williams, there are some challenges she faces. Since the harp isn't a very common instrument to play, especially one the Mount has had, the music she is given is fit for a piano, so she has to rewrite it.
Nadja has also taken on the challenge of learning how to play the trumpet, receiving free lessons from her grandfather.
This gives her an opportunity to collaborate more with other musicians, since the trumpet allows her to do things she normally wouldn't be able to do with the harp.
If you ever encounter these girls, or another art or music scholar, take the time to appreciate the efforts they put into making the Mount the place it is. 
And if you decide to go to the Mount's musical or one of the concerts, keep an eye out for Feliciani and Eyring — and the next time you receive a Charity Day shirt, wear it with pride for Williams and the other artists to see.
View Comments (2)
About the Writer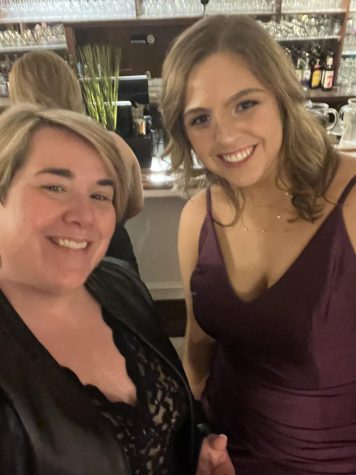 Madeline Norton, Co-Editor in Chief


Madeline Norton is a senior at Mount Saint Joseph Academy and is a Co-editor-in-chief. She enjoys writing investigative articles, and hearing other...