Rare Beauty Review
Students share their thoughts and experiences with Selena Gomez's makeup line, Rare Beauty.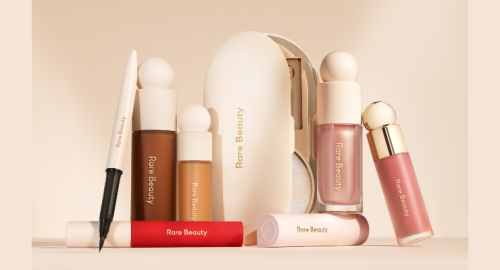 When shopping for makeup, it can be hard to choose between brands, especially when you have to decide on each makeup product. Luckily, Selena Gomez has been running her makeup line called Rare Beauty for the past few years, and lately, the brand has been in the spotlight.
"I think it's a really good brand, and I use a lot of their products," Julianna Durso '25 said.
When asked about her favorite of their products, Durso said it was
the liquid blush, specifically in shade "happy."
"The blush is definitely notorious for being extremely pigmented, so you have to be a light hand when applying that. But once you get the hang of it, it is very easy," Gianna Piroso '24 said.
Along with Durso and Piroso, many have this same admiration for the liquid blush. It is most viral on TikTok, which is how Rare Beauty became trending in the first place.
Daria Yohe '26 is one of these people who was influenced by social media to give the brand a try, and she had nothing but positive things to say about it.
Yohe said that other than just liking their products, her favorite thing about Rare Beauty is that it's a woman-owned brand. She added why she would suggest this brand to others.
"I would recommend this to someone else because I feel like it works for all skin types because I have oily skin and I have dry skin, and I think it works well," Yohe said
While talking about the liquid blush, Yohe added that she likes the melting blush as well.
The melting blush is one of my favorites because it is super easy to use with just one finger, and it adds just a subtle touch of color to your cheeks, giving them an overall natural look.
Outside of blush, Rare Beauty still follows the aspect of providing its customers a way to flaunt their natural beauty.
"The liquid luminizer is so easy to blend, and I just blend it with my fingers so effortlessly," Gianna Piroso '24 said.
Effortless seems to be the trend in Rare Beauty's products, which is great for those new to makeup or who use makeup on a day-to-day basis.
The brand has also been known for the impact it has outside of providing makeup products.
"I love Selena Gomez and I think everything the brand stands for and she stands for is amazing," Piroso said.
Rare Beauty protects the environment by using sustainable packaging and making all the products cruelty-free.
One of the most unique things about the brand's design is the matte bottles that have a ball on top of their lids. This was designed for convenience while opening the bottles for those with arthritis, including Gomez herself.
Rare Beauty also works to make an impact on mental health by providing different information about how you can help yourself and others and also giving an overview of mental illnesses and the types of health professionals you can find.
"I follow them on Instagram and they always post affirmations and different mental health awareness posts and I love that," Piroso said.
Whether you're new to makeup and don't know where to start, or you just want to find a brand that will help you show off the beauty you already have in an easy, natural way, you gotta keep an eye out for Selener in your local Sephora.
Contributors: Charolette McDaid '25 and Morgan Cross '26