Theology class serves Caring for Friends
As part of a class project, juniors in Mrs. Furletti's Christian Morality class served our dear neighbors in poverty.
Juniors in Mrs. Maureen Furletti's Christian Morality class participated in a service project in which they assembled grab bags, created gift baskets, made t-shirt bags and created cards for guests at various different charities including Caring for Friends, Face to Face and the SSJ Neighborhood Center.
The goal of these charities is to assist their guests who are facing systemic issues like poverty, homelessness and food insecurity. In Philadelphia alone, 23.3% of people are living in poverty. Of these, 11.1% are living in deep poverty, meaning their income is below 50% of the federal poverty limit.
This poverty rate is double the US average, making Philadelphia the poorest of the large US cities. In addition to that, overall food insecurity for children in Philadelphia has increased by 25% since 2020. Currently, almost 250,000 people in the city lack access to nutritious food to live a healthy lifestyle.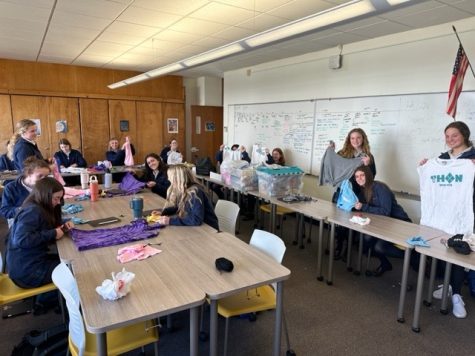 "The church calls on all of us to put the needs of the poor and vulnerable first. In accordance with our school's motto of 'serving the dear neighbor,'" Furletti said.
She has also been emphasizing the importance of assisting those in our community who are suffering.
Furletti has asserted that it is one thing to say that we would like to help, but another thing entirely to put action behind our words. Therefore, the service project was meant to help us take action and set an example for our fellow Mounties, which can be followed by donating, praying or advocating for those in need on social media.