Women in Sports: Tina D'Orazio '94
In this series, sports editor Annie Gleba profiles Mount alumnae who work in sports careers.
Tina D'Orazio graduated from Mount in 1994. She found that her time here was beneficial to her and helped her find strengths, talents and her inner voice, all of which she utilized by putting them into action as she started her college career.
"Mount helped me make that through my teachers, counselors, and really setting goals and priorities like, what do you want to do and how do you want to get there," D'Orazio said.
After Mount, D'Orazio attended Syracuse University and majored in public relations and international relations with a desire to go into the field of communications. Syracuse was able to make D'Orazio use her talents for something that interested her and develop her career.
D'Orazio moved to New York City post graduation, where she had great internships in communications and events at MTV Networks, then VH1, and Hearst Magazines. She was in New York City for six years before she asked herself what she really thought she was going to do there.
A job in sports was never on D'Orazio's radar, but she fell into it by chance. She chose to move back to Philly, where the Eagles offered her a job. D'Orazio said, "Was I always a die hard sports fan? Yes. I grew up going to all the sports games in Philadelphia. But did I ever consider and think, oh, would I work at a sports team one day? No…" Being in sports has occurred as a natural progression of her career, along with moving to Philly which was a good fit for her interest and passion. Going to Syracuse helped further her preference for sports as they have great sports programs especially football, basketball and lacrosse.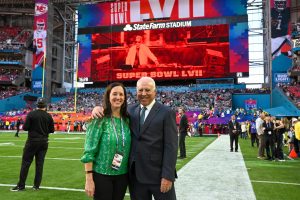 Currently, D'Orazio is Senior Vice President and Chief of Staff to the Chairman and CEO at the Philadelphia Eagles. Her everyday tasks consist of working with the owner of the Eagles, Jeff Lurie. She works with him on key initiatives for the organization, helps with new team projects, from marketing to public relations, from community service to social justice and alumni. "I get my hand in about everything," D'Orazio said.
There is always something being thrown at her.
"It's not the same-old, same-old everyday—each day presents a new idea or task to work on," D'Orazio said.
D'Orazio gives advice for those who are looking to get a job in the industry. Internships starting your junior and senior years of college are key to understanding the business and making connections with people. If you definitely want to do something in sports, you have to be flexible and realize you may not secure a job in your hometown. There a small amount of jobs in one city, but a vast amount around the country. It's possible to have a job in sports, but you have to start from the ground up.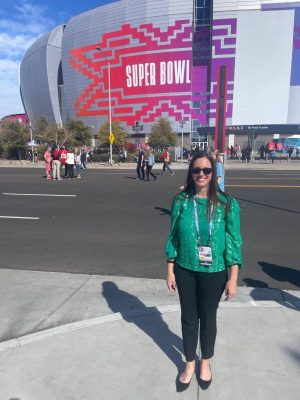 "Work your way up and if you're a hard worker and have a great work ethic, it will take you far. In sports you are working all the time. It is no longer a job governed by its season—it's constantly on, so you have to stand out above the rest," D'Orazio said. D'Orazio relayed to me that "with lots of grit, determination, and making sure you excel in your work product is where I am today."