Masks in fall fashion
Mask are a must-have accessory this fall
As we now know, the easiest way to prevent the spread of COVID-19 is to wear a mask. When the virus had first arrived in the United States, the style of the mask was not a concern, but rather getting any mask that they could find because they were so high in demand.
"When the Pandemic started, I was content with just wearing a medical mask," says Emma Gelone, a junior. More recently, both smaller companies and larger corporations have discovered new ways to make business by selling cute, stylish masks.
If you want to feel cute and confident anywhere, even going to the grocery store, there are so many places that you can buy a fashionable mask.
Junior Breighan Burke highly recommends Redbubble, a website that independent artists can upload their own designs to, "I would buy from Redbubble because they support artists, are affordable, and you can choose from tons of unique designs."
For comfort and style, Junior Cece Funchion recommends Athleta masks for their soft, breathable material. "I would buy an Athleta mask especially if you were to wear it while playing sports."
Since it is likely that we will have to wear masks for the foreseeable future, most companies believe that their mask sales will continue to increase. The cloth masks from companies such as Revolve, Saks Fifth Avenue, Anthropologie, Etsy and even Tory Burch are selling from $20-$40. Junior Anna Grace Johnson believes that, "Buying a pricier mask ensures that the quality is better and it will last for a longer time."
While some people will not spend a large amount of money on masks, there are a countless number of brands that are selling trendy, cute, comfortable masks that are more affordable such as Fashion Nova, Urban Outfitters, and Revolve. All of these masks have great reviews and come in a huge variety of colors, patterns, and shapes. In the fashion industry, high-end, luxury masks, such as Collina Strada's fashion mask with straps that sells for $100, are becoming increasingly popular in photo shoots.
Not all fashion designers have had their models wear face masks in fashion shows. Only two brands, Versace and Raquel Allegra, featured face masks in their collection imagery. While the use of masks is incredibly popular, masks have not quite yet made their way into mainstream fashion imagery. By featuring masks in their issues, high-end brands such as Versace are thought to increase the use of masks in fashion-lovers and hopefully will inspire more people to wear masks in public settings.
Allegra commented on their use of masks by saying that safety is the #1 priority for the entire team and the models. Allegra believes that by having the models wear masks, her brand is not only promoting fashion choices, but also giving an accurate image of life in 2020.
Alexandra Gurvitch, Vogue's market editor who styled masks in this season's coming issue, believes that the designers who are promoting the use of masks are doing a smart thing that not only ensures the safety of others, but also keeps everything as realistic as possible.
Paige Moore, a junior who loves fashion, said: "I think that masks should be featured in fashion shows and fashion magazines because they are becoming a fashion statement with designer brands and other brands making them. They have become so normalized and are an everyday accessory now. Even if we don't need them at some point, it represents this time period. When I see pictures from the past, especially fashion, they may not be trends that we wear now, but it gives a story to the time period."
Masks are not going to go away anytime soon, so why not invest in a cute, comfy, fashionable mask? It's always possible to turn a not-so-fun situation into a fun possibility! Whether it's from a store that was recommended or from a small business, find a mask that makes you feel confident this fall!
About the Writer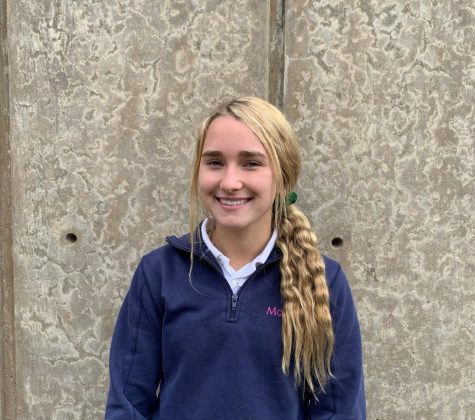 Olivia Forti, Staff Writer
Olivia is a current junior at the Mount and has written for the Campanile a little bit in the past. Olivia loves the Mount and is involved in many different...