As fun as possible
For members of the volleyball team, the start of this season has not been an easy one, to say the least.
"I think everybody's a little stressed out just because the protocols have changed," said third year middle hitter and blocker, Katie Geatens '22.
The athletes' temperatures are taken before practice and they must wear masks to enter the gym. However, they are allowed to take off their masks during practice, which has been creating more awareness to continue social distancing from each other.
"I know a lot of schools and programs got shut down, but so far it has been good. I've gotten a lot of extra practice in," said Geatens.
Adding to the pressure, there will be a limited number of players allowed on the bench, in hopes of creating a safer environment for the athletes and coaches.
"As of right now, we are only allowed to have nine people for home games and eight people for away games," said Geatens.
As for the spectators, they are working on setting up a live stream of the games, enabling them to still have the opportunity to watch them compete.
Regardless of the new guidelines, middle blocker, Viviana Carrasco '21, is feeling good about her fourth and final season of highschool volleyball.
"We're trying to make it as fun as possible," said Carrasco. Usually, when the varsity squad is picked, the team takes a beach trip, but they are not sure if that will be able to happen this year.
"Maybe we will change it and go to an amusement park because they are open and make it fun. We're trying to!" Carrasco said.
About the Contributor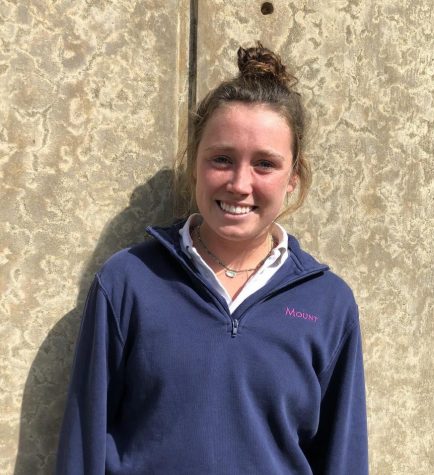 Sarah Powell, Staff Writer
Sarah is currently a junior at the Mount. This is her first year writing for The Campanile as a staff writer and she could not be more excited! In addition...