Dogs return to the White House
President-elect Joe Biden plans to bring his two dogs to the White House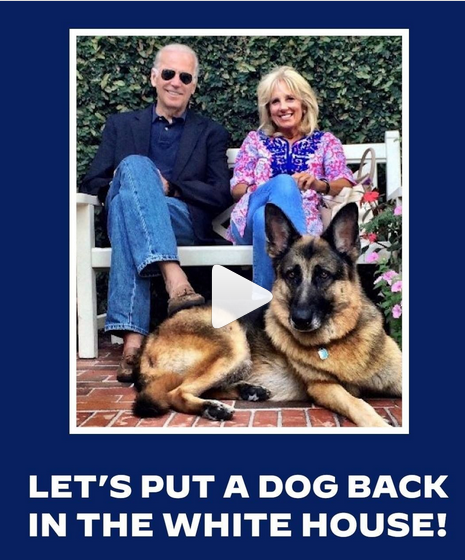 After 4 furless years, the country will finally have two new First Dogs. President-elect Joe Biden will bring his two German Shepherds, Champ and Major, with him to the 1600 Pennsylvania Ave. this January. 
Major, who will be the first shelter dog to live at the White House, was adopted from the Delaware Humane Association, DHA, in 2018 by Biden and his wife. The Review reported that, prior to the adoption, the Biden family had begun fostering Major after hearing about a litter of puppies that had been exposed to toxic chemicals and brought to the DHA. 
Cory Topel, a marketing manager at Delaware Humane Association, told CBS News that "having played a part in Major Biden's story is an honor. This is what we strive for when animals come into our care: to help them find their happy ending."
Champ was gifted to Biden shortly after the 2008 election by his grandchildren who bought him from a breeder in Pennsylvania. Biden told campaign reporters about a deal he made with his wife, "Jill said, 'I'll make you a deal: if you get the vice presidency and get elected, you can get a dog.'"
The White House has quite a long history of presidential pets, dating all the way back to John Adams, the first president to actually live in the White House, whose wife had two dogs. Since then, 1600 Pennsylvania Ave. has housed a very wide variety of animals. This list includes horses, goats, birds, cats, many dogs, an alligator, a bald eagle, a pair of tiger cubs and even Andrew Jackson's parrot that could swear. 
For a long time, it was normal for a president to have a slew of pets. President Trump is the first president in over 100 years not to have a dog in the White House. Most early presidents had carriage horses, hunting animals and a few dogs in addition to whatever other pets they had. Presidents also received exotic pets as gifts. However, more recent presidents have had mostly traditional pets, and almost all of them have had at least one dog.
Inside Edition