DeCarlo's jumping to new heights 
In this profile of Faith DeCarlo '23 we see into her life as a track and field athlete.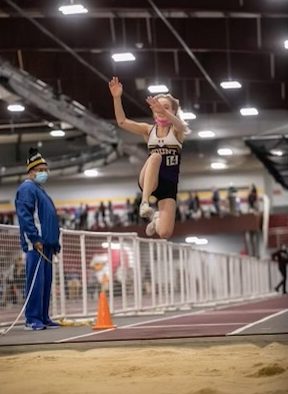 After quitting soccer sophomore year and unsure of what she was gonna do with the rest of her year, Faith DeCarlo '26, now a senior, took a leap of faith and joined the track team.
DeCarlo joined the team in need of a sport to keep her active and feed her competitive side. By putting herself into a completely new sport and environment, she wondered: will this choice impact her life significantly?
She took the track team by storm, beginning with high jumping and later joining Philly Jump Club (PJC) to pursue pole vault. DeCarlo was introduced to the Philly Jump Club because of Mrs. Kitty McClernand, her coach here at Mount.
Talen Singer, her coach at PJC, is the most influential person in her track life. She was first introduced to the world of pole vaulting two years ago and has gained so much knowledge of the sport. Over the two years she has upped her personal record to 10 feet and is getting better every week.
During her most recent meet she reached her current personal record of 10 feet and Singer, her coach, said to her, "Good job kid, but you got another bar." Always pushing her to be proud of what she's accomplished, but reminding her that she's never truly finished.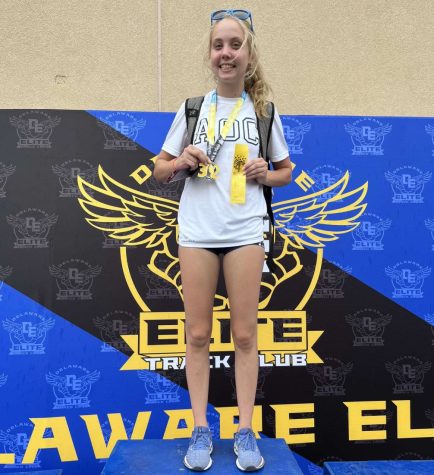 Whether Talen is helping her advance her skills, or giving one of his talks about his high school days, he is always there to catch her when she falls.
He is another reason why pole vault is her favorite event. Through track, DeCarlo has taken a different perspective on life and how she takes on different challenges. She's learned to not put all of her eggs in one basket which has helped her slowly improve in different parts of her life.
By putting different amounts of work and effort into different parts of her life she is improving in not only one thing but multiple parts of her life.
When asked how she keeps track as a priority DeCarlo said, "It's what I like to do, I want to go to practice, I lift and I practice hard, I don't miss practice."
She has put in the time and effort and it will pay off because as of right now DeCarlo is applying to college.
DeCarlo is looking at Westchester University, and is in contact with the track coach hoping to join the team in the fall. Her journey is far from over.