Women in Sports: Marissa McBride '13
In this series, sports editor Annie Gleba profiles Mount alumnae who work in sports careers.
Two World Cups in Paris and Russia, two Super Bowls in Arizona and Miami, three Daytona 500 races, and four NFC Championships all over the country: These are some of the biggest events in sports that Marissa McBride'13 has worked.
McBride grew up with a love of sports instilled in her. She was obsessed with Philly sports teams and idolized all of the great influential women in sports. One of three girls, she would watch games all the time with her sports-driven dad and grandfather. She knew she wanted to work in sports since the age of nine and got to explore what it would actually be like at twelve.
She went to a Sports Illustrated bootcamp at Villanova and loved it. Her school counselors saw something in her and recommended her to Sports Illustrated kids reporters. She soon got the internship and went on to write weekly articles from the age of twelve to sixteen. McBride wanted to be a sideline reporter and said she was "so invested in treating players like people opposed to products — I do think we lose that humanistic aspect a lot."
McBride graduated in 2013. During her time here she worked on the Campanile and played three sports. She credits a multitude of things she inherited from being at Mount. One of which being her writing skills, she says, "Mount taught me how to write, write, and write." McBride sees that the skill translate into her current career as it's the majority of what you do in sports journalism.
McBride went on to study sports broadcasting at Syracuse University and took some things she learned at Mount with her. Mount gave her confidence by being able to surround her with incredibly smart and supportive women. She said, "It gave me an incomparable experience, a load of experience, and a load of connections that is the best I could have gotten at the time."
Over the course of 5 years McBride has worked for Fox Sports, the "All Madden" documentary, and is now at Fanduel. At Fox Sports she worked on the NFL Sunday group working the pregame show. She also had the opportunity of working on the documentary "All Madden" as an associate producer. She got to interview so many legends of football including John Madden himself, who she got pretty close with. It was a year-long experience of traveling the country. She said, "It was the project I was most passionate about."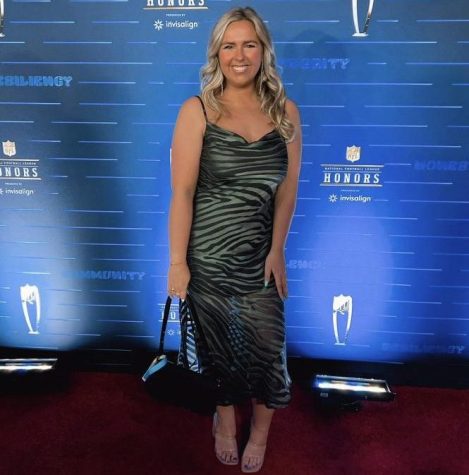 McBride's current job is associate producer at Fanduel TV. She works on the "Up and Adams" show with Kay Adams, one of the only female shows about football in the entire industry. McBride credits her as a great role model, incredibly smart, and someone who really knows her stuff. Her daily tasks are to produce, edit, write, and cut almost every single piece of tape that is filmed everyday.
Writing is woven into McBride's everyday life; she can use the skills she has and put it toward something she loves. She said, "I like to go behind the scenes and get to know the inner workings of a player… what they're motivated by, what they are interested in off the field." McBride also connects to being a woman in the sports industry: "It's hard to be persuasive because 'boys are boys' and sometimes you are looked at as inferior, but you need to convince people that you are the best candidate for the job."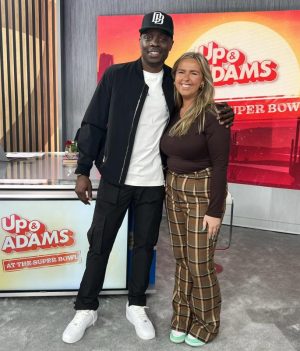 McBride was clear about what skills you should have to make it in the industry. You need to be decisive, quick-witted, confident in your decision, persuade people you know what you're talking about, and have strong connections. She also said, "I think resilience is the number one key no matter what." 
Sometimes you have to make sacrifices from a social and time standpoint, but it's all worth it in the end. McBride said, "It's pretty hard, and it's really competitive, but once you get your foot in the door and you know how to work, your momentum will carry you to the next opportunity faster than you think."