The ultimate packing list for seniors traveling to Germany and Austria
A complete guide on what to pack and how to dress.
You've been practicing the local language on Duolingo, and you're ready to begin your trip to Europe… Once you pack, that is it.
Packing for a week to go on a beach vacation is fairly easy: swimsuit, sunscreen, sunglasses, flip flops, and you are ready to go. Packing for a week to go to Europe, specifically Germany and Austria, is a bit more difficult. 
Although this may seem imitating, packing for your senior trip to Germany and Austria is way easier than you think. This guide will outline the essentials you will need to bring, how to navigate clothes packing, and even what items you should leave at home. 
What to Pack for Germany and Austria: The Essentials
1.Passport (Plus Photocopies) 
Check in advance to make sure that your passport is valid and has six months or more until it expires. Make sure to store the photocopies in a separate place from the passport. If the passport should be lost or stolen, these photocopies will make the replacing of passports at the American consulate a whole lot easier.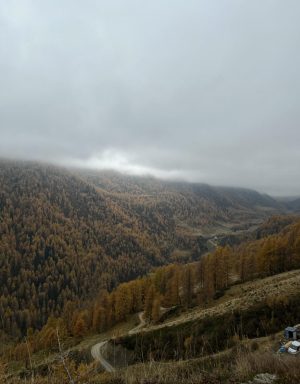 2. Prescription Medications
If you take prescription medications, make sure that you have enough for the whole week that you are away. Foreign pharmacists most likely will not honor an American prescription.
3. Local Currency 
Although the best way to gain access to foreign funds is by using a U.S. credit or debit card, you should also travel with some forge in currency, just in case. 
"It is a good idea to travel with Euros since some businesses may not accept cards for purchases below a set amount and some supermarkets won't take credit cards at all," Una Martin '23 said. 
4. Travel-Size Essential Toiletries 
You will definitely need some self-care toiletries such as deodorant, toothbrush, toothpaste, shampoo, conditioner, and body wash. These items should definitely be packed in your carry-on bag. You can almost buy everything from a German supermarket or pharmacy so do not worry if you forget something that is essential! 
5. Power Adapters & Converters 
Whether it may be for your phone, computer, or tablet, you will want to bring a few chargers on your trip. Not all countries use the same power plug outlets, including Germany and Austria. In Germany and Austria, the power plug sockets are of type F. You can find a great selection of travel adaptors on Amazon. 
What to Pack for Germany and Austria: Clothes
Europe can be an unpredictable place to travel to in terms of weather. No matter what time of the year you go, you could get rain or sun. With this being said, definitely check the weather forecast for Germany and Austria before your trip.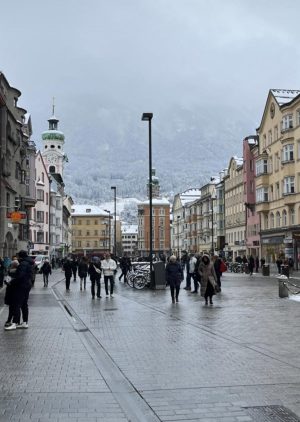 1. Generally speaking, a day-to-day European style is more dressy than American style. For cute outfits, pack jeans, a variety of both long-sleeve and short-sleeve tops, and sweaters for layers. Keep the colors neutral so you can wear any color you like when choosing a sweater, jacket, and scarf. 
"Zara is a great place to shop for clothing. All the clothes are in a friendly price range and are somewhere between basic, classy, and fashionable," Allison Hacherl '23 said. 
2. Since Spring is a changeable season, a trench coat, ideally with a waterproof coating, will be your best friend, and it works great when layered with a sweater. A few scarves will also be beneficial when the weather takes you by surprise or can make any outfit more sophisticated.
3. Europeans are known for being stylish, especially in their choices of shoes. With that being said, you are definitely wondering what kinds of shoes to pack since you will be walking a lot but want to put comfort first. Since the streets are mostly cobbled, I recommend a pair of stylish flat shoes. Try not to pack new shoes that may cause your feet to hurt if they are not broken in. Your trip will be completely ruined if your feet are constantly in pain. 
What to Pack for Germany and Austria: Miscellaneous 
1. An umbrella is a must to bring in the spring since you never know when it might rain. It is best to pack a lightweight and small foldable umbrella so it does not take up too much room in your bag.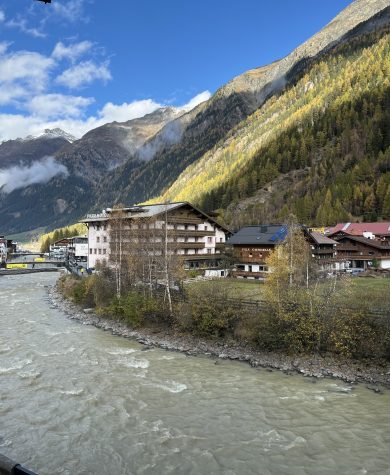 2. In order to avoid pickpocketing in Europe, bring a crossbody bag. While they are purses that are hard to pickpocket, make sure that you keep them in front of you at all times. 
"These pick-pocketers are professionals," Amanda Klemick '21 said, who had her phone stolen from a small purse in Rome, Italy. 
3. Your battery is going to drain — especially if you are taking lots of photos. So, keep a fully-charged portable charger in your cross-body bag. 
4. Bringing a refillable water bottle and carrying it around means you will stay hydrated throughout the day, regardless of the weather. Tap water is completely safe to drink in Germany and Austria so bring a bottle like a Yeti or Hydro Flask with you. 
5. You will be outdoors a lot, so protect your skin from the sun with a water resistant sunscreen like Neutrogena Ultra Water resistant Sunscreen Lotion. 
If you have to double check something from this list, make sure that you have your passport, phone, and cash. Start your packing at least a week before your flight and pay attention to items that you use as round the house every day. You will want to pack these items last, but they are also the most important. Try to be entirely packed the day before your flight so you have time to double-check your luggage for any items that you may have missed.
Enjoy your trip.