Women In Sports: Shawn Keane '04
Just by being herself, unofficial "athletic trainer" for the basketball team, Shawn Keane '04, learned to connect with people through following her passion. 
Mount had previously offered a class called Basic Athletic Training in place of a gym class. In Keane's sophomore year she decided to take a course, which is no longer offered,because it sounded interesting. She fell in love with athletic training after the class, and wanted to know how she could get more involved in it. Athletic Director Janet Columbro then offered her a student athletic trainer position. Keane would hang out in Columbro's office and shadow her to learn different things about the job. 
While she was the basketball manager, her best friend tore her ACL. Keane jokes that it wasn't great for her friend, but it worked out for her because she was able to see the whole injury process, from surgery to rehab to back on the court. She was also able to ask questions to Columbro to further her understanding on the rehab and how to handle different situations. 
Keane went on to The University of and majored in athletic training. She says that athletic training internships are different from other careers because you can't practice on the patient you can just observe until you are certified. She also had an internship in DC at George Washington University as a graduate assistant.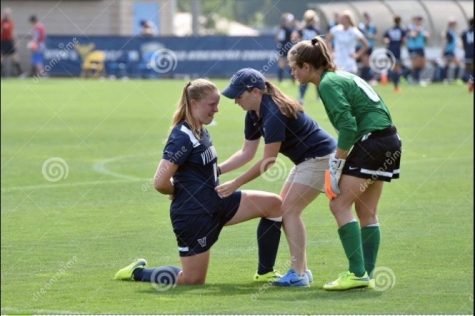 Currently, Keane has been working at Villanova University for 13 years as the Associate Athletic Trainer for Women's Basketball. 
Her day can change all the time but she has a few main responsibilities. Practices are normally 4-6 times a week depending if there is a game. She is responsible for the pre and post practice treatment and rehabs along with watching practice. When she is not at practice, she is responsible for talking with coaches about practice plans and injury reports, coordinating doctor and physical therapy appointments and other administrative work.
Even with her stack of jobs to do she still loves working in sports for the people around her. Keane' s favorite part is the relationships that she builds with everyone she meets from administration to the student managers, to the players.
"I love seeing girls come back from an injury, and seeing the confidence they have and all the hard work that is going on. And I love helping to facilitate that," Keane says. Keane just wants to help others.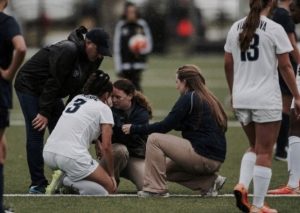 Her advice for girls looking to go into the sports industry is to put yourself out there. Don't hesitate to reach out and send an email to see if there are opportunities available. She says that people always see the athletic trainers on the side lines with the top star athletes at big events but they don't see the work in the office and the preparation to get to that moment. 
The Mount helped her foster being who she is and being herself regardless of what others think. "Be yourself and foster that, because that's gonna put you into the next steps.That is gonna put you where you need to be."