Ella's Essentials
Welcome to Ella's Essentials, my name is Ella Valencia and I am currently a senior at the Mount. When I was thinking about what I should write for The Campanile
this year, I came across the idea of sharing my everyday essentials, such as car essentials, travel essentials, etc., that may be helpful to others. Therefore,
Ella's Essentials
was born!
In this recurring article, I hope to collaborate with many different members of our community. So, if you have an idea for an essentials list feel free to email me at [email protected].
For my first piece, I decided to create an essentials list: Back to School Edition! I, along with my classmates and teachers, have learned many things throughout my time at Mount. Therefore, I have developed a list of Mount essentials needed during the school year in order to survive.
Essential Apps
Notability

: Notability is an indispensable app for all Mount students. "It's reliable, you get to personalize your notes, and I think it's a necessity for anyone doing schoolwork on their iPad," said Danyele Murtha '22. *PRO-TIP: Make sure you backup all of your notes to Google Drive, so that incase something happens to the app, all of your notes are still saved!

Quizlet

: Quizlet is crucial for studying and memorizing important terms. The app includes different ways to learn the study terms and games to allow for various techniques to help memorize the vocabulary. Emily Carr '21 frequently uses Quizlet as a study tool.  She also loves that the flashcard sets can be easily shared among students. 

Spotify

: Spotify is great for listening to music while studying or doing schoolwork. You can even create personal playlists for different moods. For example, some of mine include: windows down, summer vibes, and in my feels. "Music keeps me focused on my work and makes me enjoy my work more. I especially love to listen to music while I work on projects in art. Music makes me think more creatively and brightens my school day," Gina Princivalle '21 said.
Necessities to be Considered a Mount Student
Lululemon Lunch Bag: Every student I see uses a Lululemon bag to hold their lunch in. They are easy to carry around with their long handles and the perfect size to fit your food in! Caroline Donahue '21 said, "It's easy to carry, it's cute, and it fits a lot."

Hydroflask: A hydroflask keeps your water cold all day and reminds you to always stay hydrated! *PRO-TIP: Personalize your water bottle by decorating it with stickers of things you love! This year, I started including stickers that perfectly define my friends with their birthday presents.

Redbubble

sells the BEST stickers of basically anything. Buy any 4 stickers and get 25% off. Buy any 10 and get 50% off.

Spandex: Spandex prevent you from having to worry if your skirt accidentally comes up!

Nike Pros

are my go to!

Cookie Addiction: A cookie addition simply comes with attending the Mount. Julia Norton '21 got hooked on Mount cookies freshman year and proceeded to have one for snack nearly every day. She said, "Though somewhat unhealthy, I think many Mounties bond through sharing a similar experience."

Tutu: A tutu is needed for all and any Mount function, and you should always have one on hand. Julia Norton '21 said, "To be a Mountie, you gotta have a tutu on hand for anything from spirit week to Mini-THON to themed dress down days."

Candy: We are yearning for the Magic Shop to reopen because Mount students love visiting Mrs. Pickering and buying candy throughout the day. 
Essential School Supplies
Mount Mask: The Mount mask is a new addition to the uniform that is crucial to keeping all of us safe. On the weekends, I personally like the level 1 surgical masks because they are highly breathable and have a comfortable fit. But, for cloth ones, I would suggest any kind that is adjustable to perfectly lay on your ears.

Hand Sanitizer: Hand sanitizer is great to have in your backpack to use between and during classes, before eating lunch, and after school. *PRO-TIP:

Bath & Body Works

sells mini hand sanitizers in an endless amount of scents for everyone! In addition, they sell cute hand sanitizer holders that easily attach to your backpack zipper!

Earbuds/

Airpods

: Earbuds are a necessity if you are put in a Zoom breakout room at school, or need to watch a video in class. *PRO-TIP: Airpods are very small and can easily get lost. I purchased a cute case on

Amazon

that attaches right onto the zipper of my backpack, so I always have them on hand!

Calculator: I agree with my AP Calculus class in stating that a calculator is a MUST for any Mount math class. *PRO-TIP: Purchase your calculator at

Staples

during back to school season and get a rebate! Also, always write your name on your calculator or attach a name label, so, if you lose it, it can be easily returned! My mom purchased labels for me on

Stuck On You

, which you can personalize and buy in all shapes and sizes.

Pencils: Pencils are necessary for taking notes, especially when you may need to erase something. Personally, I recommend the

Paper Mate Clearpoint Mechanical Pencils

with 0.5mm or 0.7mm led depending on how finely I want to write something. They write and erase super smoothly, and the lead can be refilled! I also recommend the

Pentel Hi-Polymer Erasers

.

Pens: Pens are also necessary for taking notes. Cate Van Stone '21, who we call "The Pen Queen", said, "Pens are a little more interesting and fun than just plain pencil because you can get them in lots of different types and colors. I like the

Pentel Energel pens

in black/blue because they are very smooth and vibrant. I definitely recommend a colored pack of

Pilot Frixion erasable pens

for math because they are erasable. Also, I like

gelly rolls

because they come in so many fun colors: neon, glitter, etc. The colors make note taking less monotonous and really easy to color code and differentiate topics." Personally, I like the

Bic Cristal Original Ball Pens

because they write smoothly and do not smear.

Charger: People are always asking to borrow my charger because we use our iPads all day. Therefore, a charger is definitely a necessity. Liz Dolich '22 said, "I would say I always have a charger just because all of our work is on our iPads and you'll never know if you or a friend needs it."
About the Contributor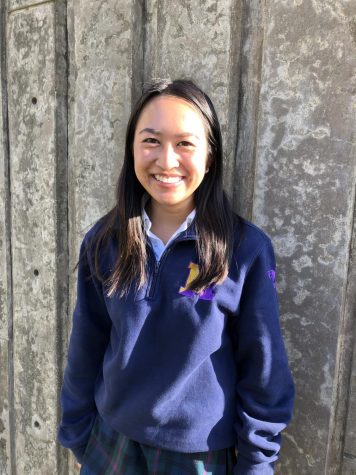 Ella Valencia, Features Section Editor
Ella is a senior at Mount Saint Joseph Academy. She has written for The Campanile since sophomore year, and, this year, she is excited to serve as a...