Peter Thompson: Teacher, helper, willing volunteer
A look into a life spent helping the dear neighbor.
Heavy boots stir up the red dust of the desert as Peter Thompson strides down the dirt road toward the Navajo Reservation of Albuquerque, New Mexico. The year is 1992, and the ground he walks on is federal land, where people live in a simple way with shared homes, cars, and meals.
Peter Thompson, father of Sine Thompson '24, recalls this period of his life with fondness.
"I was always intrigued by the southwest. I'd never been there before… and I loved the idea of it… so I volunteered with a group called Mercy Corps," he said.
Based at Gwynedd Mercy University, the Mercy Corps flew Thompson and his fellow volunteers out to the Navajo Reservation at New Mexico, where they taught at the school and helped around the community. Thompson himself was an English teacher, and he worked with grades 6-12.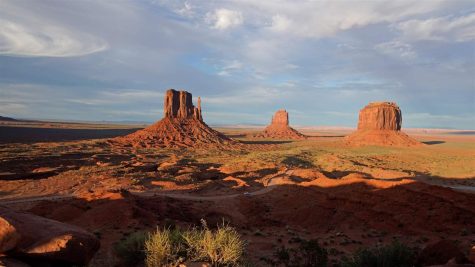 "I felt the distance between our cultures. I had to learn. I was learning more from, you know, it's like a cliche, but I was learning more from them than they were from me," he said with a laugh.
Thompson taught at the school for a year before returning to become the vice principal. He described both the rough conditions and the students he taught, many of whom studied hard, hoping to be accepted into the University of Arizona and earn a higher level of education, which would open doors for them in the future.
"…it [the school] was for the kids on the reservation that the parents saw them going to college, like envisioned them going to college. And they did. About 80% of every class went to college," he said.
After teaching on the Navajo reservation for a year, Thompson returned the next year as the vice principal, and from there decided that he would further his education by enrolling in Villanova Law School, a decision that he says he has never regretted.
"I saw it as a seismic shift that allowed me to help others the way that I felt I best could," he said.
Through his teaching experiences volunteering on the reservation, Mr. Thompson has been able to both help people and to learn more about himself, ultimately becoming a U.S. Immigration and Federal Criminal Defense lawyer with his own practice, Thompson Law Advocates, P.C.