With care and precision
New Neighbor Series: Major Turner
In his new role as Mount's COVID-19 Coordinator, Major John Turner patrols the halls with care and precision.
Though he has been working part-time in the finance department, Major Turner, known to the Mount community as Major, is now working full time with the COVID-19  team: Mrs. Guyger, Sister Charlene, and Mrs. McGovern.
Before retiring, he was the social studies department chair, teaching U.S. and World History at all levels for over 20 years. .
"I've always enjoyed my time here at the Mount, either as a teacher or when I retired, helping out in the finance office, and now helping out here as the COVID-19 coordinator," Major said about his time at the Mount.
The job of COVID-19 Coordinator consists of popping into classrooms assuring desks are a safe distance apart, enforcing one-way route hallways, ensuring students are wearing their masks and maintaining 6 feet apart. Major's focus during this confusing time is towards keeping everyone safe, but also to allow us to be in person as much as we can.
"I think you gain a lot more being with your colleagues, friends, and peers and experiencing here in school as opposed to just being remote or virtual," Major said.
Following the COVID guidelines of the CDC and Montgomery County is very important to everyone at the Mount. The decision to use a hybrid model has some inherent risks, but, thanks to Major's care and precision, the Mount community is staying safe and healthy.
About the Writer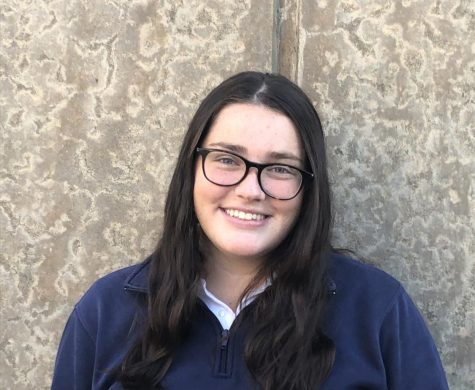 Maggie Pensabene, Editor-in-Chief
Maggie Pensabene is a senior at the Mount and is serving as Editor-in-Chief this year. Other than The Campanile, Maggie also acts as Senior Chair of Mount...