Freaky Friday falls
Come see the fabulous production of Freaky Friday!
Mount Saint Joseph Academy presents Freaky Friday! As the 2022 fall musical rapidly approaches, there are many people behind the scenes making this show spectacular. Everyone is important, from the smallest to biggest roles!
Many of the girls who are a part of the fall musical have expressed their love for it. Isabella Cooper, vocal scholar of the class of 2025, plays two roles in the show: Danielle and Doctor Ehrin. 
"It is such a productive place to be and we get so much done each rehearsal. Overall, the program is so positive and has such hard workers!" Cooper said.
Sarah Klunk '24, who plays Ellie Blake, agrees, "My favorite part is the supportive community and the friends I have made along the way!"
Overwhelmingly, the cast agrees that the show allows them to channel their creativity while having a great time.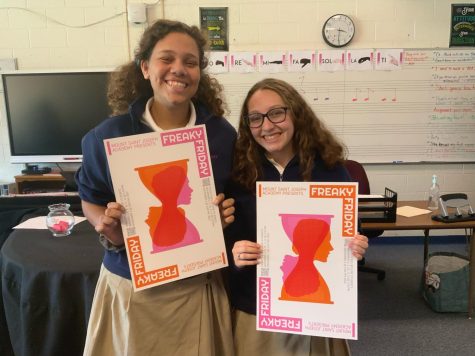 The Mount has a history of putting on amazing shows, including Legally Blonde the Musical, West Side Story, Grease, Mamma Mia, and Godspell!
Bridget Robinson '24 plays Pastor Bruno and believes that being in the musical has taught her essential life skills.  
"Mount theater has taught me how to work with a team and manage my time," Robinson said. 
Music director, Ms. Danielle Molan, also shared some inspiring words, saying, "Watching everyone become best friends by the end of the show, and seeing that relationship transfer onto the stage on opening night is just such a cool and amazing experience and makes Mount theater that much better!"
Freaky Friday debuts on November 4th at 7:30 and has additional shows on the 5th, 6th, 10th, 11th, and 12th. Don't miss out on seeing these hardworking and talented students in this spectacular show!