Review: "Puss in Boots: The Last Wish": Full of purr-sonality
Fans of the fearless feline cannot stop raving about "Puss in Boots: The Last Wish," but is the movie really as paw-fect as reviews say?
**CONTAINS (small) SPOILERS!!**
Our favorite fearless hero is back again, swinging his sword and baring his iconic, real Italian leather boots! "Puss in Boots: The Last Wish," the second movie in the spin-off Shrek series "Puss In Boots," took theaters by storm on December 21, 2022 and swept audiences off their paws. 
Nominated for 50 awards, "Puss in Boots: The Last Wish" has a 4.3 star rating on "Litterboxd." The animated film follows Puss as he comes to terms with being on his ninth and final life, while also fighting to reach the magic Wishing Star before the antagonists. He encounters new and old characters, including his love interest Kitty Softpaws (Salma Hayek), his loveable best furry friend Perrito (Harvey Guillén), Goldilocks (Florence Pugh) and the three bears (Olivia Colman, Samson Kayo and Ray Winstone), and big-bad Little Jack Horner (John Mulaney). 
Spanish actor and director Antonio Banderas reclaims his role as Puss, portraying him in a light fans have never seen before. Being forced to reflect on his lost lives, Puss deals with his
self image and a new found fear of death. Audiences are praising the portrayal of anxiety shown in this movie, including a panic attack. 
Regarding the enjoyableness of the movie itself, "Puss in Boots: The Last Wish" is nothing short of an incredible viewing experience. Even just watching the trailer, it is evident that animation style blends a mix of comic-book-style animation, similarly seen in "Spider-Man: Into the Spider-Verse," — a movie that broke new grounds in the animation world using lower frame rates, softer lines and brighter colors — and 3-D animation, which is much more commonly used in previous Dreamworks and/or Shrek films. 
The opening fight scene is a great example of this use of animation, using every unique element of itself to hook you, shock you, and reel you in. As soon as you see the frame rate drop, you know you'll be in for something sweet.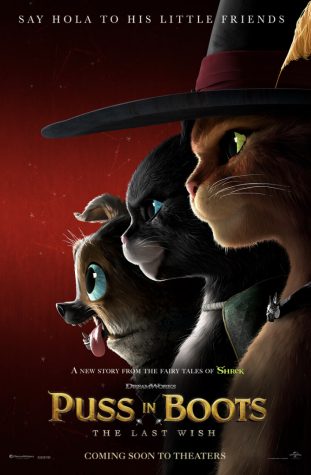 "Puss in Boots: The Last Wish" has the perfect blend of emotions. Every hiss-terical joke made audiences roar with laughter and each character was full of so much depth. However, it also touched on people's felines. The movie speaks on the shortness of life and how regrets can come back to haunt a person. The deeper theme of death highlights fears such as running out of time to accomplish goals and how easy it is to lose yourself.
This theme is especially explored in the Wolf's character. We first meet the Wolf with his dark cape, sharp blades, and piercing red eyes in the bar where Puss is drinking his leche. He shows interest in Puss in Boots and then reveals that he has been hunting the hero. Every time the Wolf enters a scene, a whistle tone is played, creating a fur-raising atmosphere. The bounty hunter is later revealed as death personified, who had spent years watching and chasing Puss. From the beginning of the movie, the Wolf instills fear into our once-fearless hero, weakening him and dampening his confidence. Throughout the movie, we see Puss lose faith in himself; however, in the end, he manages to outrun death himself by accepting that you cannot change the past.
With unique animation, entrancing characters, and an outstanding plot, "Puss in Boots: The Last Wish" is absolutely worth a trip to the movie theater. Grab a few furry friends and a glass of leche and treat yourself to "Puss in Boots: The Last Wish."