Mount places 3rd in the SJU Investment Challenge
The all-girl team won amidst a field of several other competitive local schools including, Gwynedd Mercy Academy and LaSalle College High School.
Kendall Tallon '24, Cydney Smith '24, Sabrina Borzi '24, Ava McDonald '25 and business teacher Mr. Kevin Boccella won third place for the 2023 Haub School of Business High School Investment Challenge on Thursday, April 20th.
The competition entails that each team buys and sells stocks over a period of about three months, and the teams with the most diverse portfolios advance the furthest.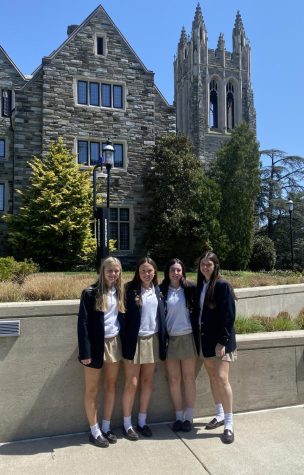 Prior to going to Saint Joseph's University that day, the team presented at the Mount to two judges, both prominent figures within the finance industry. The competition among the six groups made it a tough decision for the judges, but Mount's team excelled in public speaking, which was noted by the judges.
Mount's team then advanced to the competition held at Saint Joseph's University, competing against seven other high schools: Gwynedd Mercy Academy, LaSalle College High School, Lansdale Catholic, Bishop Eustace, Saint Joseph's Prep, Villa Joseph Marie and Monsignor Bonner & Archbishop Prendergast.
"My team was well prepared for the competition because of already competing in the Mount competition. We practiced the presentation several times prior to going to Saint Joe's," said Mr. Boccella.
The hefty preparation for the team's presentation included meetings multiple times a week and Zooms with the team's mentors, Chris and Brendan, current SJU business students. They helped the team throughout the process and met up with them at the competition.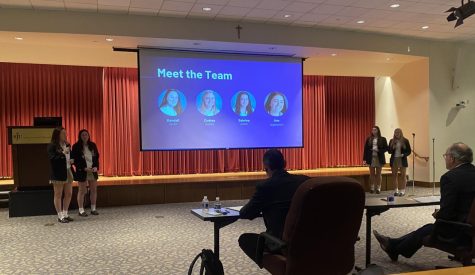 After many practices, flashcards and meetings, Mr. Boccella drove the team over to the competition.
"Sabrina's playlist was inspiring," he stated as the nerves, Starbucks and music all began to blend together in the car ride.
Although nerves were high, the team was able to finish third, winning a $1,000 check.
"It was scary at first, working with all juniors, but their experience helped me more than I could ever imagine," Ava McDonald said.
Winning first place was Bishop Eustace, and second was Saint Joseph's Prep. Other teams who competed were Gwynedd Mercy Academy and LaSalle College High School. Also, every team was given AirPods, regardless of ranking.
"Besides the team coming in the top three, being able to spend time at Saint Joe's and showing the team members the campus was one of my favorite parts," Mr. Boccella said.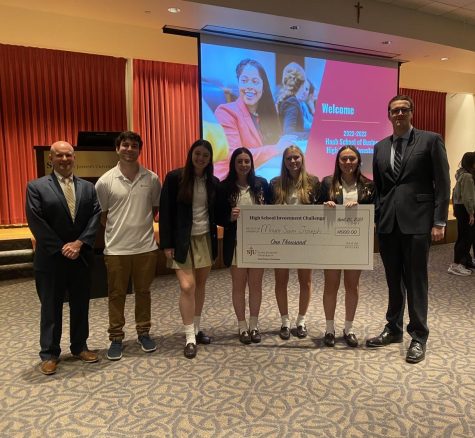 As an alum of Saint Joseph's, he was excited to show the team around the campus, and even to his old dorm building (which they are unfortunately knocking down). The team then headed to Chipotle afterwards for lunch to celebrate before heading back to school.