Slowing down to win
The sliver of light coming from the hallway was what woke Kate Kelly '22 up from her third nap of the day. Her head was pounding as she sat there in her dark room tired, alone, and a little bit confused. 
How did she get here? Two days ago, she was perfectly fine, looking forward to Founder's Day, playing soccer at the height of the season, and settling into her classes. 
Everything was about to change. Kelly's first concussion happened in the fall of her sophomore year. It threw a wrench into her busy lifestyle, and she was out of school for weeks. Unfortunately, it would not be her last concussion of the year.  
Beginning to see a trend, Kelly knew she had to do as much as she could to avoid another head injury. By wearing a concussion-prevention headband, she was able to have more peace of mind while playing, although she knew she needed to do more. 
With the help of specialists, and many appointments later, Kelly found a new mindset that would help immensely with recovering from any injury, including concussions. 
She now understood that taking a break when not feeling 100% is the best form of prevention.
Before, she kept playing, even though she was dizzy, disoriented and confused on the field. She was not aware of how serious a head injury could be, let alone multiple injuries. 
With a third concussion coming her way in a few months, this mindset would carry her through another exhausting, yet boring recovery. 
Although Kelly's concussions made the past two years difficult, she learned an essential lesson — to take a break when needed. This new mindset is one she is able to take with her, not only though concussion recovery, but whenever she just needs to slow down, in order to come back at 100%.
About the Writer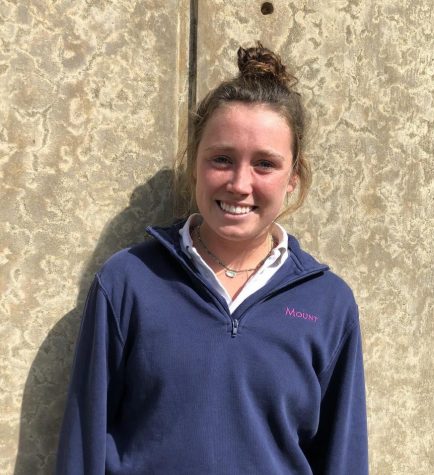 Sarah Powell, Staff Writer
Sarah is currently a junior at the Mount. This is her first year writing for The Campanile as a staff writer and she could not be more excited! In addition...