All in a day's work
At 6:20 in the morning, Mrs. Rose Lamphere wills herself to leave her warm bed and begins her busy day. 
Despite a formidable daily schedule that would make others want to roll over and fall back asleep, Mrs. Lamphere never lets her schedule get the best of her. Before she even gets to work, she goes out of her way to pick up Anna Grace Johnsson '22 and Gianna Seyla '23.
"Mrs. Lamphere is one of the most cheerful and helpful people I have ever met. If you are ever in need of a laugh, go visit her!" said Johnson.
When she arrives at school, Mrs. Lamphere begins working immediately. Her other other daily tasks range from checking the mail and sending out thank you notes to donors to proofreading letters and entering donations into databases. 
If someone needs help, Mrs. Lamphere is quick to offer her assistance. No task is too small or too large for her. Whether it's sending out letters for Mount fundraisers, or keeping track of student and alumnae events, Mrs. Lamphere can be relied upon to show up with a smile.
"There's always something to do," Mrs. Lamphere said. She finds time to take student temperatures in the morning, and create name tags for participants in school events in the afternoon. 
Mrs. Lamphere credits her daughter, Amanda Lamphere '19, with introducing her to The Mount. Ever since Amanda's first day of freshman year, Mrs. Lamphere knew she wanted to work here.  She enjoys that her work is different everyday, and that she gets to interact with people daily. She truly loves her job. Although we don't see Mrs. Lamphere on a daily basis, she works hard to keep our school running smoothly.
About the Contributor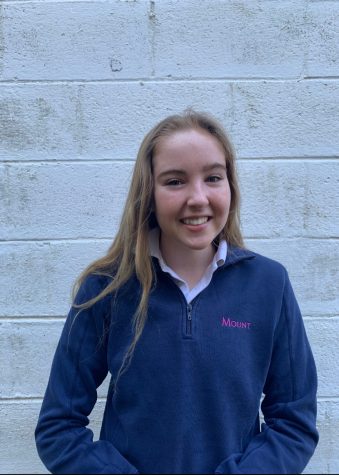 Breighan Burke, Staff Writer
Breighan Burke is currently a junior at Mount. This is her first year as a writer for the Campanile and she is so excited! Breighan is also a co-founder...